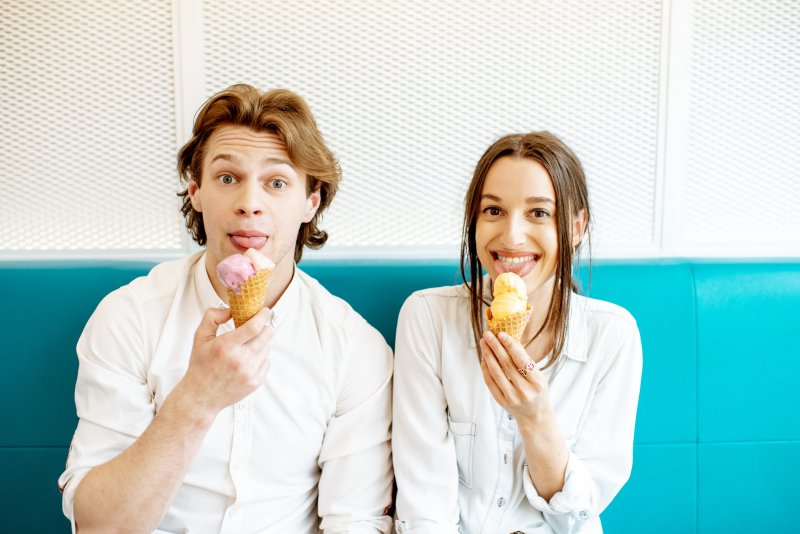 Nothing makes mouths water more than a delicious, creamy scoop of ice cream while curled up on the couch. Not only is it full of rich flavor, but it also is a comforting dessert that so many of us enjoy. Unfortunately, just because something is tasty doesn't mean that it is good for you. You may be wondering – is ice cream bad for your teeth? Continue reading to learn more about the effects of ice cream and what you can do to prevent them.
Effects of Ice Cream on Teeth
On a positive note, ice cream contains cream, and dairy products are full of the much-needed calcium that your teeth and bones require in order to stay strong. However, one redeeming factor does not make up for all of the negative effects that ice cream has on your teeth. This dessert contains a lot of sugar. When left behind in the mouth, bacteria feast on this sugar and release a weak acid as a by-product. This is what causes you to develop tooth decay over time.
How Do You Prevent the Effects of Ice Cream on Your Teeth?
The good news is that there are some steps you can take in order to keep your smile healthier, even if you do enjoy an occasional cone. The best way to prevent cavities is by brushing your teeth twice and flossing at least once every single day. If you have some ice cream another sugary treat, it is a good idea to wait about thirty minutes until you brush again. This is because your teeth are particularly vulnerable after eating. You don't want to be brushing enamel that has previously been softened.
Other things you can do to limit cavities is to cut back on the ice cream toppings. As delicious as caramel, chocolate syrup, and whipped cream may be on top of your sundae, they are full of sticky sugary. If you want to have some toppings, stick to low-sugar options, like toasted almonds or peanuts.
How Much Ice Cream Is Too Much?
You want to keep your smile healthy, but that doesn't mean that you need to deprive yourself of your favorite frozen treats. If you want to have an occasional bowl of ice cream, this isn't something to beat yourself up over. Just be sure that you are maintaining excellent oral hygiene and seeing your dentist for regular cleanings and checkups.
Ice cream is just one of the many delights that the modern world has to offer. By keeping up with your oral health and not indulging too often, you will be able to maintain a healthy smile.
About the Author
Dr. Steven Hatch is an experienced dentist who has been working in the field for over a decade. He earned his dental doctorate from the Virginia Commonwealth University School of Dentistry and is committed to taking many hours of continuing education. For more ways to keep your smile healthy or to schedule an appointment at his office in Forest, visit his website or call (434) 841-1704.