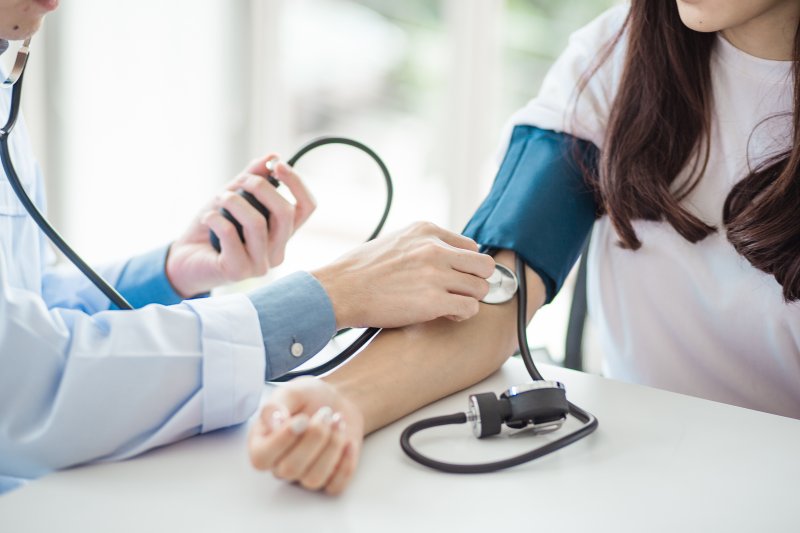 It may surprise you to see your dental hygienist pull out the blood cuff during a routine dental checkup. After all, what does that have to do with your teeth?
Although it may seem odd, blood pressure can have many effects on your oral health. Checking your vitals is quickly becoming a new, crucial addition to your regular cleanings and checkups. Read on to learn a few reasons why this is an essential step in your dental visit.
Detects Health Complications
Ideally, you should be seeing your dentist bi-annually for a routine visit. This makes your checkups the perfect opportunity to run a wellness check and get a baseline of your blood pressure. Regularly screening for health complications can potentially save your life.
Hypertension, or high blood pressure, often goes undiagnosed because symptoms can be subtle and go unnoticed. Symptoms only become apparent once the heart and arteries are damaged. It has coined the nickname 'silent killer' because it causes about 60,000 deaths annually. Early detection is extremely important to prevent serious damage to the heart, blood vessels, kidneys, eyes, and more. It could also reveal underlying health conditions like diabetes or cardiovascular disease. Blood pressure checks are crucial at various medical facilities because discovering high blood pressure is the first step to controlling and avoiding serious health complications.
Necessary to Choose an Appropriate Anesthetic
For most dental work, local anesthesia is essential to provide the utmost comfort during procedures. It numbs the area to be treated, helping patients feel at ease during the process. Blood pressure readings are required before undergoing dental work, as it aids dentists in choosing the appropriate anesthetic for injections.
Many anesthetics include epinephrine, a hormone that is used to prolong the numbing effect. It constricts blood vessels which, in turn, can increase blood pressure. This puts individuals with hypertension at risk for a medical emergency. If you have high blood pressure, your dentist can adjust dosages and treatment plans accordingly, or choose an anesthetic without epinephrine.
Checks Your Anxiety Levels
The idea of having a dentist work in your mouth induces stress, anxiety, and fear in most people. The human body reacts differently when in pain or feeling severe anxiety. These feelings can increase your blood pressure, which can be problematic if you already have issues with hypertension. If your blood pressure is high because of anxiety, your dentist needs to know so they can adjust their treatment to help you relax.
There's a strong connection between oral and cardiovascular health, which is why checking your vitals at the time of your appointment is crucial for your safety. Next time you're asked to stick your arm out for a reading, remember how they are essential in maintaining a happy and healthy body.
About the Practice
Crossroads Family Dentistry is dedicated to providing high-quality, friendly, and affordable care for the whole family right here in Forest. Our team offers comprehensive services from dental checkups to complex restorative procedures. We place a heavy emphasis on preventive care to help you enjoy a smile free of dental problems. If you're interested in visiting us for regular cleanings and checkups to keep your dental health in top shape, visit our website or call (434) 841-1704.