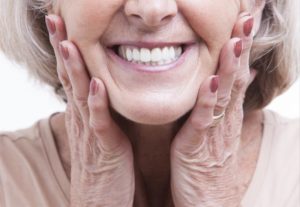 If you've lost one or more teeth, you can obviously tell that those gaps in your smile impact how you look. But did you know that missing just a single tooth can affect your health. Nutritious foods can be more difficult to chew with fewer teeth, and your remaining teeth can shift, changing your bite and potentially leading to more tooth loss down the road. When considering your options for tooth replacement, it can difficult to know which one is the best for you and your situation. Well, here are four clear signs that dental implants might be the right decision.
You want the oral health benefits dental implants offer.
Out of the tooth restoration options available, dental implants provide the most health advantages. In addition to preserving the spacing between teeth, dental implants work below the gum line, stimulating the jaw bone to continue growing and remain strong. With dentures or dental bridges, the jaw bone can lose density from lack of stimulation, potentially causing additional tooth loss in the future. Dental implants maintain your jaw's health, helping you keep your natural teeth for as long as possible.
You want a long-term tooth replacement solution.
Dentures and dental bridges are great ways to get the strength of your smile back, but they don't last nearly as long as dental implants. Dentures need to be replaced every 5 to 7 years, and dental bridges every 7 to 10 years. That's because when the jaw loses density, it changes shape over time. As this happens, these restoration appliances have to be adjusted to continue to fit properly. In contrast, your jaw keeps its shape with dental implants, and with proper care, dental implants can last for 30 years or even longer. As a result, although dental implants cost more upfront, in the end, they may be the wiser investment, potentially saving you money and headaches in the long run.
You want more security for your dental prosthetic.
If you have dentures, you likely already know that your dentures can slip or come loose as you speak or eat. Dental bridges do provide added security with a strong bonding material, but dental implants are firmly held in place by being fully integrated into the jaw bone, just like natural teeth. Then, they are topped off with a dental prosthetic, whether it be a dental crown, bridge, or denture. By attaching your dental prosthetic to one or more dental implants, you won't have to worry about experiencing an awkward situation with your teeth coming out.
You have sufficient jaw bone and oral health to support an implant.
In order for dental implants to be successful, you need to have enough jaw bone to support them. Otherwise, they won't remain in place for long. A bone graft can help reinforce your jaw bone and prepare you for the implant placement procedure, increasing your chances for implant success. In addition to jaw bone, your oral health needs to be in good standing. If you have gum disease or gum recession, dental implants are more likely to fail.
Ultimately, the best way to know whether dental implants are a good replacement option for you is to have a consultation with your dentist in Forest. They can review your specific case and provide personalized guidance and recommendations. So if you find that these four signs are correct for you, then you might want to seriously think about getting dental implants. Get started by scheduling your consultation today!
About the Author
At Crossroads Family Dentistry, patients have three experienced dentists to choose from for their dental care. Their comprehensive services mean that they can meet nearly every need under one roof. For dental implants, they partner with many trusted oral surgeons to perform the placement procedure and can place the restoration after the requisite healing time has passed. To schedule an appointment with them, you can call (434) 841-1704 or click here.