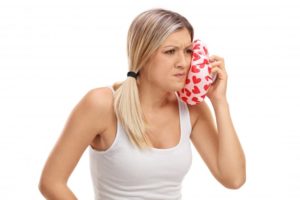 You've been having a serious toothache for several days now. You visited your dentist, who said that the only way to treat the problem is with a root canal in Forest. This procedure involves your dentist removing the nerve from your tooth, cleaning out the pulp (the center of the tooth), filling the inside of the tooth up with a synthetic material, and restoring it with a filling or crown. Although root canals have a reputation of being painful, they actually relieve your toothache. However, as with any kind of oral surgery, you can expect some discomfort for a few days afterwards. Here are a few tips on how to ensure a speedy and comfortable recovery after a root canal.
1. Take Care of Your Mouth
It's a good idea to wait until you're no longer numb to eat anything. That way you don't run the risk of accidentally biting your tongue or cheek.
You can reduce pain and swelling by applying a cold compress to your face for 10 minutes on, 10 minutes off. You could also take over-the-counter pain medications as directed on the bottle.
For the first few days, stick to soft foods like pasta, mashed potatoes, and yogurt to satisfy your hunger while also not placing any pressure on the surgical site.
If you're a smoker, try to stop the habit for a few days before and after your root canal. Tobacco use significantly delays the oral healing processes, meaning you'll be in recovery for much longer.
2. Avoid Exercise for a Few Days
Since every case is different, ask your dentist in Forest how long you should go without exercise after your root canal. Working out too soon afterwards makes it more likely for the surgical site to bleed and you to feel achy. After a few days, gently get back in the swing of things with light walking before moving on to your normal exercise routine.
3. Get Plenty of Rest
Sleep is the ultimate recovery activity. Make sure to get at least eight hours a night for several days after your root canal. If you can, try to take a day or two off work and stay off your feet for good measure. This can speed up the recovery process.
4. Pay Attention to How You Feel
Take note of how you feel in the days after your surgery. Pain and swelling should subside after a couple of days. If not, you might still have an infection and the root canal may need to be redone. If store-bought pain medication isn't enough to alleviate your pain, then alert your dentist right away.
Root canals are a highly effective treatment for toothaches caused by damage or infection in the tooth's center. Keep these tips in mind, and you should have a speedy and easy recovery.
About the Author
Dr. Steven Hatch earned his doctorate from the Virginia Commonwealth University School of Dentistry. He has taken multiple post-graduate courses through organizations like the American Dental Association and the Biomet Synergy Training Program. He believes that nothing is more rewarding than helping his patients achieve their healthiest, most beautiful smiles, and getting a root canal can certainly help with that. To learn more, you can contact Dr. Hatch's practice, Crossroads Family Dentistry, at (434) 841-1704.