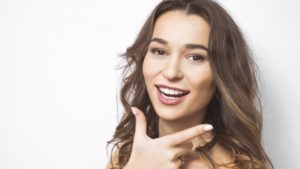 Did you know that teeth whitening is the number one most requested cosmetic service, and it's been around since the 1980s? These days, recent studies show that 80% of Americans want whiter teeth, and 6 out of 10 say that whiter teeth would make them more confident. Unfortunately tooth discoloration is an inevitable part of life. Not only will foods and drinks like marinara sauce, blueberries, and coffee stain your teeth, but regular life wears away your enamel to reveal the yellowish layer of dentin underneath. Fortunately, there are hundreds of products designed to whiten your teeth! Here's what you need to know about choosing the best teeth whitening in Forest.
How Teeth Whitening Works
From your dentist to your drugstore, all teeth whiteners are designed to work the same way. Generally, a bleaching agent like hydrogen peroxide or carbamide peroxide is applied to your teeth and left there for 5 to 30 minutes, depending on the product.
It seeps through the pores in your enamel to reach the stain. The oxygen it contains will break the bonds that attach the discolored molecules to your teeth, lifting the stain.
Strengths, Styles, and What to Watch Out For
The strength of a teeth whitener is based on the concentration of its bleaching agent. Since your dentist is a trained professional, the amount of hydrogen peroxide in the products they use can be anywhere from 15%-40%. Over-the-counter teeth whitening products will typically contain only 3%-15% hydrogen peroxide. These products can come in a variety of styles, like whitening strips or mouthwashes, that will let you whiten your teeth at your convenience.
Teeth whitening can have side effects like tooth sensitivity and gum irritation, and might cause you pain or damage if you have sensitive teeth or gum tissue. If you have sensitive teeth, you talk to your dentist or choose a lower strength product.
How to Get Professional Results
The most reliable way to get whiter teeth is to talk to your cosmetic dentist in Forest about in-office and at-home teeth whitening. Unlike over-the-counter treatments, your dentist can:
Safely administer the amount of hydrogen peroxide that's right for you.
Give you personalized treatment for minimized side effects.
Spot any hidden or overlooked issues that could cause pain while whitening your teeth.
There are an overwhelming number of products to choose from when looking to get whiter teeth. By keeping all these factors in mind, you can make an informed decision on the best way to whiten your teeth.
About the Author
Dr. Steven Hatch is a graduate of the Virginia Commonwealth University School of Dentistry and has completed the Biomet Synergy Training Program and multiple ADA courses. He strives to build smiles that inspire confidence, which is why he offers a range of cosmetic dentistry services, including in-office and at-home teeth whitening. To learn more, he can be contacted at his website or at (434) 841-1704.