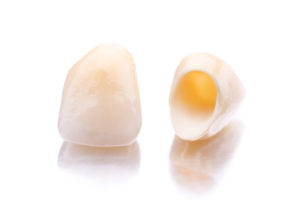 Have you recently noticed your dental crown wobbles in place while you eat? Or that food gets stuck in it more often now? Or that the tooth underneath it is sensitive to hot or cold? These are all symptoms of a loose dental crown. While it may be easy to ignore now, not acting quickly could endanger or damage your protected tooth. Your Forest dentist explains what might have caused your dental crown to come loose and what you need to do about it.
How a Dental Crown Might Come Loose
Your dental crown is designed to fit snugly on your tooth and is cemented firmly in place, so it should last a decade or more. However, it may lose its grip if:
It sustains cracks, fractures, or other structural damage.
The dental cement is worn away by eating too many sticky foods.
It's subjected to excess pressure from teeth grinding or chewing on hard objects.
The tooth underneath it has begun to decay, which is most often the result of poor oral hygiene.
What to Do About a Loose Dental Crown
To keep your smile healthy, your dental crown needs to be restored right away. On rare occasion, a loose dental crown may even qualify as a dental emergency, so don't hesitate to:
Call your dentist: Inform your dentist as soon as possible. They will be able to help you determine if your situation is an emergency or if it can wait to be seen for a few days, then schedule an appointment accordingly.
Be careful in the meantime: Your goal should be to keep the dental crown in place until your dental appointment. Resist touching it or wiggling it, and only chew with the other side of your mouth.
Secure it with dental cement: If you're unable to see your dentist right away, they may instruct you to secure it with dental cement from your local pharmacy. If you can't find any, ask if you can use denture adhesive. However, these are only temporary solutions that should only be used when recommended by your dentist.
Whatever caused your dental crown to come loose, it's important that you see your dentist soon to protect your oral health. With their help, you'll be enjoying your happy, healthy, and strong smile again in no time!
About the Practice
At Crossroads Family Dentistry, we use dental crowns to solve a number of oral health issues for our patients in Forest, VA. Whether your tooth is decayed, broken, or cosmetically flawed, our talented and experienced team of dentists can restore your pearly whites with a durable, high quality, and custom-made dental crown. If you ever find yourself with a loose dental crown, they can quickly identify and treat any underlying problems that might have caused it. To learn more, feel free to contact them via their website or at (434) 841-1704.