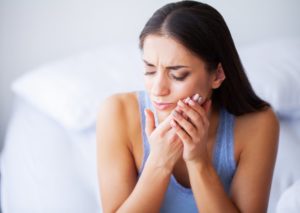 Have you ever noticed your teeth hurting when running or performing other forms of high-intensity exercise? If so, you may be wondering what's causing the tooth pain. Instead of discontinuing your exercise regimen, it's better to get to the root of the problem. Continue reading to learn why you may be experiencing this and find out what can be done for relief.
Identifying the Cause
Your tooth pain could stem from one or more of the following issues:
Cold Sensitivity – If you exercise outside, then your teeth may be reacting to cold air temperatures. This may especially be the case if you've endured enamel wear that has left portions of the dentin exposed.
Teeth Grinding – Also referred to as bruxism, teeth grinding is usually done unconsciously. If this is happening while working out, you may feel pain in your jaw and teeth from the unusual pressure.
Sinus Problems – Sometimes tooth pain isn't directly related to your dental health. Occasionally, a sinus infection can be the source of the discomfort, and it can be exacerbated when you exercise. That's because the sinuses, as a major part of the respiratory system, are highly active during intense physical exertion.
What Can be Done?
Thankfully, you don't have to give up exercising to get relief from your tooth pain. If cold sensitivity is an issue, you can try inhaling through your nose and exhaling through your mouth. Your lips, tongue and cheeks will help to keep your teeth insulated.
If bruxism is an issue, you'll need to make a cognizant effort to relax your jaw muscles. When running, you should also make sure that your shoes aren't worn out, as to reduce the force your teeth endure. Properly cushioned shoes can help reduce the stress that is transferred to your jaw.
Pain related to a sinus problem will need to be addressed by your primary care physician. Usually, he or she can prescribe a medication to treat the infection.
Why It's Best to Visit a Dentist
Even if the above measures provide some remedy, it's still in your best interest to pay a dentist a visit. This will give you an opportunity to explain what has been happening, have X-ray photos taken and undergo a thorough examination. By taking these careful steps, the dentist can determine whether you have a dental health issue that is contributing to your discomfort – like a cavity, worn enamel or gum disease.
Your proactive efforts will help prevent more complex dental issues and allow you to hit the gym or put in the miles with one less thing to hold you back!
About the Author
Dr. Steven Hatch is a graduate of the Virginia Commonwealth University School of Dentistry. With over a decade of experience in the dental field, he is still eager to further expand his knowledge and skill set. Thus, Dr. Hatch has pursued advanced postgraduate education from the Biomet Synergy Training Program, Gordon Christensen courses and other treatment modules. His commitment to excellence translates into providing the utmost in patient care at Crossroads Family Dentistry, and he can be reached for more information through his website.