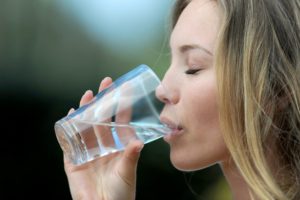 Where would you expect to find fluoride? This important mineral is well-known for helping prevent cavities and strengthening teeth, which is why it's often found in toothpaste and mouthwash. Your dentist may even recommend a fluoride treatment or varnish for an added layer of protection! However, did you know that you could also find it in your everyday drinking water? For over 75 years, most tap water sources in the US have been fortified with fluoride with spectacular results. Here are five amazing benefits of having fluoridated tap water!
1.) Reduces Risk of Tooth Decay
Fluoride helps teeth resist decay, and studies indicate that adding fluoride to community drinking water prevents about 25% of tooth decay in both children and adults. In fact, it's so effective at reducing cavities in communities at large that the Centers for Disease Control and Prevention named fluoridated tap water as one of 10 great public health achievements of the 20th century.
2.) Protects Smiles of All Ages
Cavities are extremely common in children, but too much fluoride can negatively impact baby teeth and oral development. The fluoridation of drinking water is carefully monitored by health officials and experts to ensure that proper levels are maintained to protect growing smiles.
3.) Demonstrably Safe & Effective
With over 70 years of thorough, scientific studies, fluoridated drinking water has proven time and time again to be safe for everyone even after extended periods of time. Trustworthy health organizations such as the World Health Organization, American Medical Association, and the American Academy of Pediatrics all endorse the use of fluoridated tap water.
4.) Lowers the Cost of Caring for Your Smile
Cavities can cut into time at work, school, and home. Studies estimate that about 51 million school hours and 164 work hours are lost every year because of dental-related issues, many of which could be easily prevented. Fluoridated drinking water helps promote better dental hygiene and lowers your risk of oral health issues. In addition, studies show that the average lifetime cost per person to fluoridate a water supply is less than the cost of one filling!
5.) Fluoride Is Naturally Present in Drinking Water
Fluoride is not a dangerous, man-made chemical. It's a naturally occurring mineral that's found in many water sources in nature all over the world. Specific amounts of fluoride are added to meet the recommended levels set forth by the CDC and other health organizations. It's similar to how milk is fortified with vitamin D, orange juice with calcium, and bread with folic acid.
Fluoride is a safe mineral that's reliably effective when it comes to preventing tooth decay. It's addition into your community water source plays a key role in protecting the smiles in your neighborhood!
About the Practice
The highly experienced and fun-loving team of Crossroads Family Dentistry is dedicated to keeping the smiles of Forest, VA and the surrounding communities happy and healthy for life! That's why their dentistry focuses on how the mouth affects overall health and creating a judgement-free atmosphere. They also believe in working alongside patients in a co-diagnostic approach as well as patient education to make sure every unique smile gets exactly what it needs to thrive. To learn more, they can be contacted via their website or at (434) 841-1704.