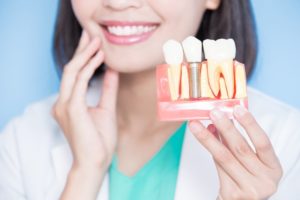 Missing teeth are a lot more common than you'd think. In fact, odds are you already know someone who doesn't have one or more of their natural teeth, and you can't even tell because they got dental implants. If you're missing teeth, consider getting dental implants in Forest. They are the best solution to tooth loss that modern dentistry has to offer. Continue reading to learn how to take care of them so they last as long as possible.
What Are Dental Implants?
Dental implants are metal posts, usually comprised of titanium, that are placed under the gumline to mimic the structure of a lost tooth root. They are the only solution to tooth loss that replaces the root and not just the crown, or the visible part. Your dentist in Forest will surgically insert the post directly into your jawbone, and, over the course of the next few months, your bone will literally grow around the implant until it essentially becomes a part of you. Afterwards, your dentist will place a crown over the implant, and voila! It will look and feel like you have a perfectly natural tooth for decades to come!
What Advantages Do Dental Implants Offer?
Implants have many benefits that other tooth replacement methods do not, such as:
Stability. Implants are attached to your jaw, so they won't slip and slide around like dentures.
Durability. They are designed to last for at least 30 years, if not your whole life.
Comfort. Once they have integrated into your jawbone, implants will feel exactly like your natural teeth.
Confidence. Your smile will look exactly the same, if not better, than it did before you lost your teeth.
How Can You Care for Your Dental Implants?
Another advantage of dental implants is that they are much easier to take care of than bridges or dentures. Simply follow these steps:
Clean your implant crown twice a day with a toothbrush that has soft bristles.
Floss next to your implant crown every day to remove plaque.
Consume sugary foods and beverages in moderation.
Don't smoke or chew tobacco.
Visit your dentist every six months for a checkup and cleaning.
Dental implants are a great way to restore your bite and smile. They're also very easy to maintain. Why not ask your dentist if implants are right for you?
About the Author
Dr. Carole Roberts obtained her dental degree at the Medical College of Virginia. Since then, she has taken multiple continuing education courses, several of which were about dental implants. She has the skills necessary to make sure your implants are a success. If you're curious about whether dental implants are right for you, contact Dr. Roberts at (434)-841-1704.