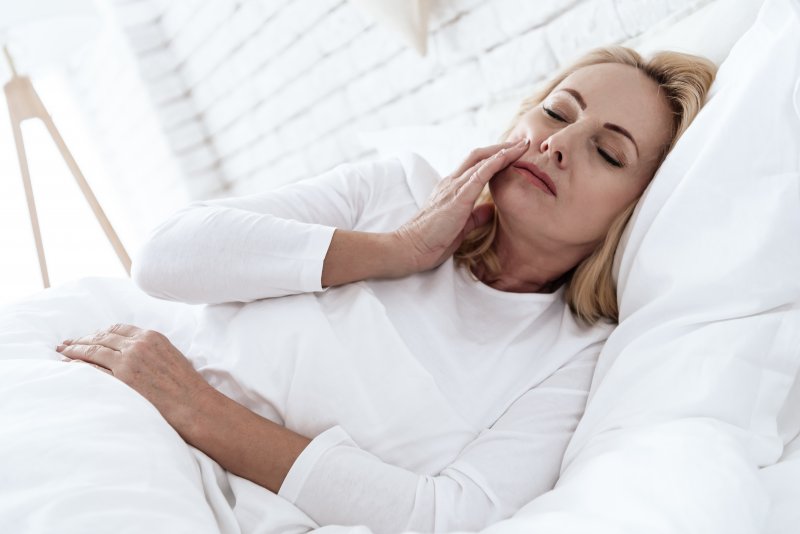 Just as you're drifting off into dreamland, you suddenly experience a sharp pain in your tooth. As much as you try to ignore it, the toothache begins to nag you and prevents you from falling asleep. Since you can't see your emergency dentist in the middle of the night, you're stuck handling the situation on your own until the morning. Luckily, there are several ways you can manage the pain just enough to get you through the night. Read on as we share a few tips to help you get some sleep.
What Causes a Toothache?
Have you ever wondered what causes a toothache? There are several reasons why they might occur, such as:
Mouth or Jaw Injury – These injuries can be the result of blunt force trauma to the face.
Sinus Infection – Drainage from these infections can cause a toothache.
Tooth Decay – Decay can leave the nerves in your teeth exposed, causing pain.
Lost Filling – When you lose a filling, the nerve inside your tooth is exposed, causing pain.
Abscessed or Infected Tooth –This pocket of pus in the tooth can cause pain.
Food or Debris Stuck Between Your Teeth – When something is wedged in between teeth, it can cause pressure and discomfort.
Gum Disease – Gingivitis or periodontal disease can lead to toothaches.
Tips to Sleep Through a Nagging Toothache
While you should call your emergency dentist first thing in the morning, what can you do to manage the pain in the meantime? Here are a few ways you can alleviate some of your discomfort:
Take Over-the-Counter Medication
Ibuprofen (Advil, Motrin), acetaminophen (Tylenol), and aspirin can help reduce inflammation and alleviate discomfort at the site of the infected tooth. If medication alone isn't doing the job, apply a numbing paste or gel that contains benzocaine to the area. The combination will help dull the pain long enough for you to fall asleep!
Keep Your Head Elevated
When blood pools in your head, it can make the toothache much worse. Try propping your head up on several pillows while you sleep! It will help reduce some of your pain, improve circulation, and minimize swelling.
Clean Your Teeth
The last thing on your mind when you have tooth pain is brushing and flossing your teeth. However, continuing your oral hygiene routine is crucial and can even help alleviate some of your pain. You can eliminate trapped food particles or other debris that's contributing to your discomfort.
Use a Cold Compress
This technique is a popular but effective way to manage tooth pain. Wrap an ice pack or other cold compress in a towel and place it on your cheek over the aching tooth for about 15 minutes. The cold will help numb the nerves, minimize discomfort, and reduce any swelling and inflammation.
If you're suffering from an intense toothache at night, follow the tips outlined above for some relief. Before you know it, you'll wake up in the morning feeling refreshed and ready to visit your emergency dentist!
About the Practice
At Crossroads Family Dentistry, we strive to provide high-quality, friendly, comfortable, and affordable dental care that the entire family can enjoy. Our team understands that dental emergencies can happen in the blink of an eye. Luckily, we have years of experience handling everything from the simplest to the most severe dental emergency. If you have a severe toothache, visit our website or call (434) 841-1704 and we can give you the prompt relief you deserve.