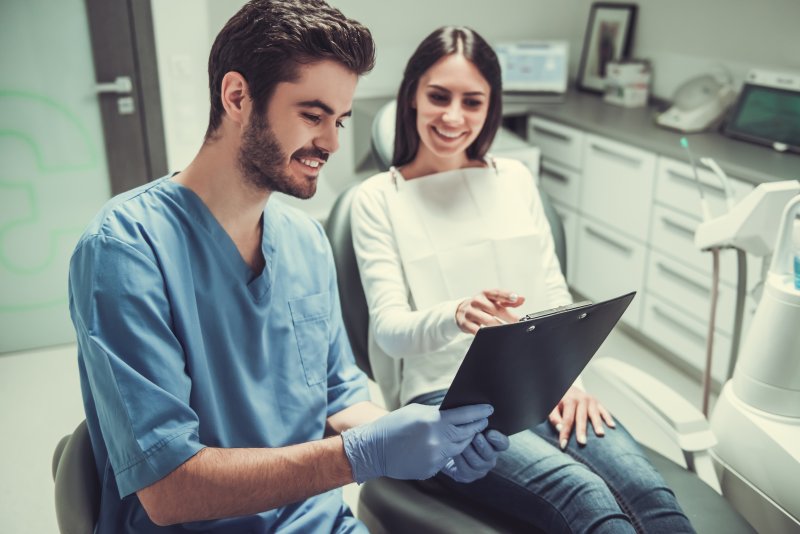 If you're missing one or more teeth and trying to decide which tooth replacement option is best for you, your dentist may recommend dental implants. Knowing what questions to ask them during your consultation will allow you to get all the information you need to make a confident and well-informed decision. With that in mind, here are four questions you should ask at your dental implant consultation in Forest.
#1: How Does the Dental Implant Procedure Work?
Dental implants are inserted through the gums and directly into the jawbone. It can take up to an hour for each one to be placed and several months for them to fully fuse with the jawbone through osseointegration. Once you're done healing, your dentist will have you come in for a shorter appointment to have the replacement tooth attached.
#2: Am I a Good Candidate for Dental Implants?
The oral health of the patient plays a key role in their dental implant eligibility. It's important to start with healthy teeth and gums as well as to have any oral health problems corrected before treatment. Your dentist will also check to see if the jawbone is dense enough to support dental implants. If not, a bone graft may be necessary before undergoing the procedure. Tobacco use and other bad habits will also impact whether you can safely get dental implant surgery.
#3: How Much Experience Do You Have Placing Dental Implants?
To ensure you're getting quality care, ask your dentist how much experience they have performing dental implant procedures. They should be able to give you details on their qualifications and experience. Make sure they're a board-certified periodontist or an oral surgery professional. Additionally, look for membership in the International Congress of Oral Implantologists (ICOI).
#4: How Long Does Recovery Take?
Recovery times depend on the person, but expect some gum soreness for at least a few days post-surgery. Once you've healed, you can begin to incorporate regular foods back into your diet. Continue avoiding tough, chewy, sharp, spicy, sticky, acidic, crunchy, or overly hot or cold foods and drinks as these can further irritate your gums. Stock up on pain medications, soft foods, and ice packs to make recovery more comfortable. You should only need up to a week to recover after surgery, but your jaw will take four to six months to heal completely.
If you come up with any more questions to ask your dentist at your dental implant consultation in Forest, make sure to add them to the list. With a healthy mouth and a qualified dentist, you'll be on your way to a fuller, more beautiful smile before you know it!
About the Author
Crossroads Family Dentistry makes visiting the dentist as stress-free as can be! They provide exceptional, affordable care for patients of all ages in Forest and surrounding communities. For those who are missing one or more teeth, they offer several different replacement options such as lifelike, durable dental implants to improve your bite, preserve your oral health, and complete your smile. If you're ready to set up an appointment or want more information about dental implants, call their office at (434) 841-1704 or visit their website.